FC9 Gallery Announces Nathan Winship Smith, "Social Constructions: Set In Stone," as August Featured Artist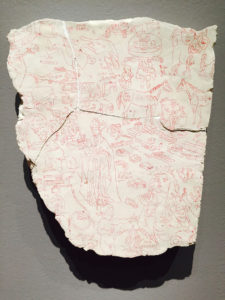 July 5th, 2017
Indianapolis, IN—The Full Circle Nine Gallery (FC9) is proud to announce that clay artist Nathan Winship Smith, and his show, "Social Constructions: Set In Stone will be the featured for the August IDADA First Friday Art Tour, on Friday, August 4th. The show will premiere 6-9pm, and admission is free.
"My pieces come off as Lithic Stones, or Building Blocks, and represent modes of social construction by way of form and imagery," said Smith, who is an Artist-in-Residence at the Beech Grove Clay Works, which partners with FC9. "Rules and Laws have been around for a long time and use to be 'set in stone.' I use this metaphor to pass on contemporary ideas related to social issues including politics, gender, and religion, to name a few. The pieces are meant to look solid, however, they are not always constructed that way, which speaks to the emptiness or hollowness within a social convention."
About Nathan Winship Smith
Nathan Winship Smith pursues his passionate sensibility for creativity and art making through clay and the ceramic process. He has earned a BFA from the Herron School of Art, and an MFA from the University of Notre Dame.  In 2016, he was offered an opportunity to teach and help manage the Beech Grove Clay Works as an Artist-in-Residence, which provides reasonable and affordable classes and work space for all experience levels.
"People that enjoy imagery and ceramics, coupled with social issues and humor, would probably very much enjoy this show," said Smith. "The work speaks to our future by using an anachronistic context through imagery inlaid and inscribed into stone slabs that appear to have been pulled from the ancient past."
About the Full Circle Nine Gallery
The Full Circle Nine Gallery operates as an artist cooperative gallery, with each of the member artists and the board dividing gallery duties and artists roles. The artists will work together to help each other advance in skill and practice, as well as to bring success to the gallery. It is located at 1125 Brookside Ave., Indianapolis, IN, 46202, in the South Studios section of the Circle City Industrial Complex. For more information, or for artists interested in joining the Full Circle Nine, please visit www.fullcirclenine.com